Welcome to Shri Vadnagara Nagar Mandal Mumbai website
Jay Hatkesh from the desk of President Kum. Neha Sunil Yajnik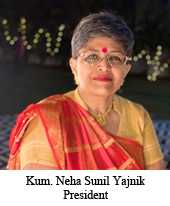 A warm welcome to one of the oldest mandal of Vadnagara Nagars. Established on 30-8-1908 by a legion of visionaries, the organization follows & operates on its fundamental principle of fostering & encouraging community power by way of promoting democratic values and kinship among its members. Shri Vadnagara Nagar Mandal, Mumbai is registered as public charitable trust under the laws of the Maharashtra State (India) & has a written constitution on with a paper frame work defining its aim & objectives.

SVNM, Mumbai's core activities are distributing Educational prize & Scholarships to students, assisting financial assistance to needy community members for Medical Aid, Organizing various cultural activities & traditional programs like Patotsav, Sharadotsav etc., literary activities like different types of writing competitions & of course our pride magazine "Nagar Manjusha"

અંત માં એટલુંજ કહીશ કે જ્ઞIતિ ની એક માત્ર વિશ્વસંસ્થા એવી શ્રી વડનગરI નIગર મંડળ નો ડંકો અહર્નિશ અને ચૌદિશે વાગતો રહે અને એના પડઘા અવિરત સંભળાતા રહે એ જ માં અંબા અને હાટકેશદાદા ને પ્રાર્થના. આવો આપણે સહુ સાથે મળી ને આપણી આ માતૃતુલ્ય સંસ્થા ને એક અનેરી ઊંચાઈ એ પહોંચાડીએ, આમારી સાથે જોડાશો ને ?